Boendeyta: 55 m2
Antal rum: 4
Antal bäddar: 3 + 2 extrabäddar
Beskrivning
ENGLISH
----------
Are you having difficulities deciding if you will go to Thailand or stay in Sweden? Only one hour from Stockholm, this unique summer property is made up of three small bungalows which are intricately detailed with tropical items and decor to mentally transport you to a tropical paradise. Featured in an interior design article in the Swedish DN newspaper, it has been a project of love for several years. Looking for long-term renters from Sweden.

The main house features a living room, large bedroom with double bed, extra bedroom, and connecting hall with kitchenette with refrigerator and freezer, shower, sink and Separett toalet. Dvd player and large tv screen with 200 films at your access (tv for dvd viewing only). Large terrass with tiki bar connects to the main house. Wandering up the hill, you will come to the guest house with bunk bed and private deck and further up the hill you will reach the kitchen with a view of the sea. The kitchen features a private terrass with coal grill, outdoor table and chairs, refrigerator, two-burner ceramic hob and microwave.

Kids love this property! Running from house to house, picking blueberries, taking lovely forest walks with start on the large 3400 kvm property, taking a short 100 m walk to the waters edge, playing in the large sandbox. Usage of our Ryds 380 rowboat is free for your usage. The property offers privacy and seclusion. It is only a short 400 meter walk to the nearby Ljusterö Gårdsbutik & Café where you can buy local delicacies and scoops of ice cream and waffles.

A short bikeride from the property, you will find a marvelous sand beach with floating raft and diving board, surrounded by beautiful stone cliffs for sailboat watching.

There are two several restaurants in Linanäs which are by the water and within cycling distance, often with live music during the weekend evenings. Check www.skargarn.se and linanasskeppskrog.se for programs and menus. The buss 626 will be helpful for you planning, as the bus stops only 200 meters from the property and takes you the restaurant area in a matter of minutes.


SWEDISH
.......................
Har du svårt att bestämma om du vill åka till Thailand eller stanna i Sverige? Spara pengar och stanna på The Tiki Hut i Sverige istället! Bara en timme från Stockholm kommer du till denna unik ställe med tre små bungalows som är noggrant dekorerat med exotiska detaljer. Vi har satsat flera år att skapa en inredning som mentalt transportera gästerna till ett tropisk land, och nu vill vi dela vårt paradis med andra för första gången sommaren 2016.




Vägbeskrivning
Car: E18 North to 276 Åkersberga. Continue to the car ferry (Östanå) which takes you to Ljusterö. Continue on the same road until you come to Lillströms. Here, instead of heading towards Linanäs, you make a left towards Tranvik on Tranviksvägen. Continue 4 km to the property.

Bus: Bus 626 takes you right outside the property. The bus goes directly from Roslagens Trafikplats in Täby for example. Check the Res i Stockholm app to have a problemfree trip which takes you almost to the door!

Own boat: If you have your own boat, such as a Buster, you are welcome to arrive with it. We have a spot without a dock that can be used. This means that your boat should be able to be pulled ashore for tying rather than requiring a docking position.

Public Boat: Waxholmsbåt can be taken from Stockholm City. Simply check for the destination Staveström. With backpack or wagon, you will walk 1.8 km to the property.

I närheten
Affär: local butik/cafe 400 m. Large: 14 km
Badplats: 100 m
Busshållplats: 100 m
Båtuthyrning: Usage of rowboat included
Fiske: 100 m
Fotbollsplan: 4 km
Golf: 8 km
Hav: 100 m
Kanotuthyrning: 7 km
Lekplats: 4 km
Minigolf: 8 km
Närmaste granne: 800 m
Restaurang: 7 km (kan cyklas)
Sjö: 100 m
Skog: 0 m
Skärgård: 0 m
Strand: 2 km
Tennis: 7 km. And Paddleball
Vandringsleder: 0 m

Priser och tillgänglighetsdatum
| | |
| --- | --- |
| L | Lågsäsong: 6500 kr/vecka, 1500 kr/dygn |
| | |
| --- | --- |
| H | Högsäsong: 8000 kr/vecka, 2500 kr/dygn |
Bytesdag: Söndag
Lediga veckor:
2023
2024

X

X

X

X

X

X

X

X

X

X

X

X

X

X

X

X

X

X

19

20

21

22

23

24

25

26

27

28

29

30

31

32

33

34

35

X

X

X

X

X

X

X

X

X

X

X

X

X

X

X

X

X
Kontaktinformation
Gail Baker
Pilfinksvägen 25
183 51 Täby
Mobil: 0761710707
Hemsida: tikihut.bakerscape.com

Bokningsförfrågan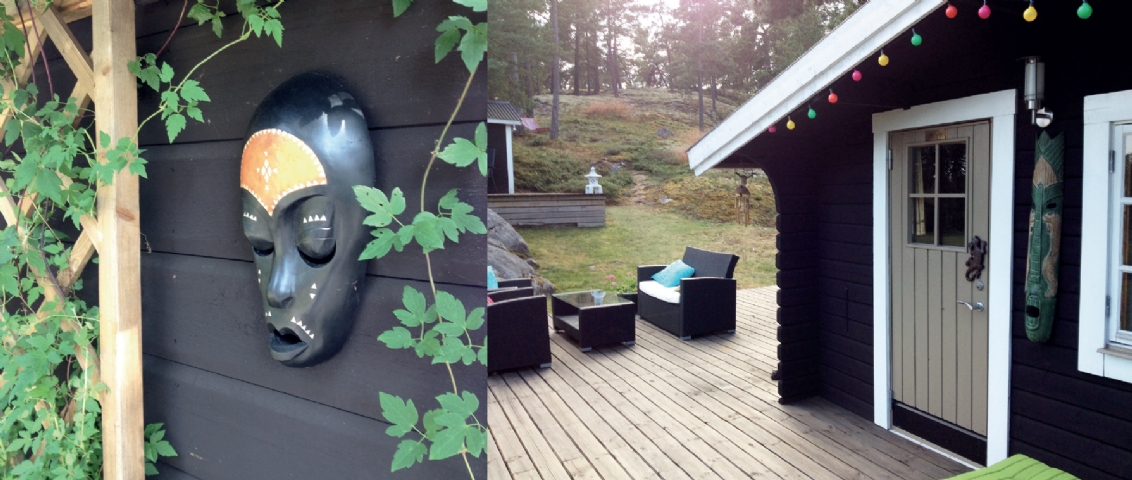 Bas:


Allergivänligt


El ingår


Husdjur ej tillåtna


Rökning ej tillåten


Separata sovrum

Bad/toalett:

Vattentoalett


Dusch

Mat:

Matlagningsmöjligheter


Microvågsugn


Frys


Kylskåp

Övrigt:

Mobiltelefontäckning

Utomhus:

Veranda


Uteplats med utemöbler


Utegrill


Trädgård

Liknande objekt
» Stuga/hus uthyres Älvkarleby: 3 + 2 bäddar
» Skärgårdstuga på Vätö: 3 + 4 bäddar
» Gåsvik - Goose Bay Inn: 3 + 1 bäddar
» Privat hus med parkering i gamla Uppsala: 3 + 1 bäddar
Fler i samma område
» Stugor i Ljusterö