Boendeyta: 60 m2
Antal rum: 3
Antal bäddar: 3
Beskrivning
Sometimes you just need a break from the onslaught of work and stress - why not share one with your family in our cabbin from the 18th century near a gorgeous lake? This lovely cabin will put you far, far away from your worries, while still allowing you to enjoy comforts and nearby activities like hiking, swimming, and more! Dogs are welcome, too!

Less than 3 km of the village of Rotstock, a small village known for its gardens and art. Despite your close proximity to town - and the nearby shores of the lake - your cabin feels nice and peaceful, surrounded by swaying pines that stretch far into the horizon.

Breathe in the fresh calming swedish air as you admire the nature around you, before stepping inside to unwind. Log-style woodwork, combined old swedish style furnishings and the warmth of the stone fireplace, create the atmosphere of a welcoming home.

The area is fantastic no matter what time of year you choose to visit. Summertime guests can head to the lake itself, where swimming, fishing, cannoing, and just relaxing at the shore await.

I närheten
Affär: 7 km
Badplats: 500 m
Cykeluthyrning: 3 km
Fiske: 500 m
Golf: 7
Sjö: 500 m
Skog: 0 m
Strand: 700 m
Vandringsleder: 1 km

Priser och tillgänglighetsdatum
Bytesdag: Valfri
Lediga veckor:
2023
2024

X

X

X

X

X

X

X

X

X

X

X

X

X

X

X

X

X

X

X

X

X

X

X

X

X

X

X

X

X

X

X

X

X

X

X

X

X

X

X

40

41

42

43

44

45

46

47

48

49

50

51

52
Kontaktinformation
Klaus Fontana


Bokningsförfrågan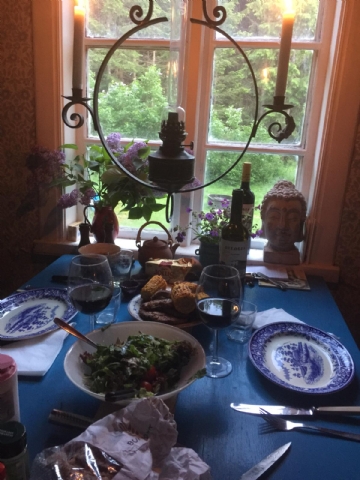 Bas:


El ingår


Husdjur välkomna


Separata sovrum

Bad/toalett:

Utedass

Mat:

Matlagningsmöjligheter


Frys


Kylskåp

Övrigt:

Öppen spis


Mobiltelefontäckning

Utomhus:

Uteplats med utemöbler


Utegrill


Trädgård

Liknande objekt
» Trevlig stuga i Södra Kvarnviken: 3 + 1 bäddar
» Sjö- & skogsnära stuga vid Iväg: 3 + 2 bäddar
» Stuga i vackra Dalsland: 3 + 4 bäddar
» Mysig småskola: 3 + 3 bäddar
Fler i samma område
» Stugor i Dals-Rostock