Boendeyta: 55 m2
Antal rum: 3
Antal bäddar: 2 + 3 extrabäddar
Beskrivning
Our cabin is set at the foot of the forest with a view of the sea in Sörmland and only a 250 meter walk away. Beautiful nature setting with large (2,000+ sqm) lot with direct access to the forest and trails. Terrific blueberry, currant and lingonberry picking on the property as well as in the forest, with mushrooms nearby.
-Extremely quiet and private setting off of Utflyktsvägen.
-55 square meters, two bedrooms, sleeping place for 4-5. Bedroom one: King size bed (180 cm). Bedroom two: Bunk bed with Full size bed (120 cm) and single bed (single bunk for one child only) (90 cm). ***Please note total capacity is 5 people total, of which 3 can be adults.***
-Open fireplace.
-Newly renovated and decorated in 2020-2021 including:
⭐️Entirely new bathroom with heated floors and heated towel rack, walk in shower
⭐️Entire interior newly painted
⭐️New beds and furnishings
⭐️New appliances including: refrigerator /freezer, stove / oven, dishwasher, microwave, digital large-capacity energy-efficient washer / dryer.
⭐️New deck built 2021 with a glimpse of the sea.
‍ -Includes high-speed fiber internet WIFI
-Alarm / security system
-Multiple outdoor spaces: Glassed-in porch and two outdoor decks. Charcoal grill included.
-Beautiful sunrises and sunsets year round.
-Neighborhood seaside playground includes picnic table, swings, slide, large sandbox, wooden boat, playhouse and lawn bowling.
️ -Large football pitch.
-10 minute drive to downtown Nyköping with the harbor and multiple cultural offerings and museums, river walk, horse stables, children's events, amazing library, golf, restaurants. Nyköping is one of Swedens oldest cities with much to offer.
🛶 Kayak rental nearby in Helgö with direct access from there to the sea
-Close to Stendorren Nature Reserve, where you can experience the archipelago without a boat, walk via suspension bridges to different islands. Hike, swim and just have fun. The reserve has several marked trails for hiking.
-Close to Nynäs Slott / Castle, Trosa, Öxelsund, several sand beaches and hiking trails. Some of the beaches / swimming areas in the Nyköping area: Atomic Beach, Örstigsnäs / Näsudden which is a sea bath. Stavsjöbadet, Bålsjöbadet and Likstammen, all three of which are lakes.
Other bathing places: Näset, Edstorpsbadet, Parkbadet, Strandstuviken, Lastudden, Sandvik, Stendörren, Lappetorp, Femöre, Västra Kovik, Krognäsbadet, Svärdsklova, Byggningen, Ånstabade, Bålsjöbadet, Rinkebybadet.
-1 hour to Stockholm with car or train
-Nearby ICA Maxi grocery store offers terrific drive-up grocery pick-up

-Children welcome.
-No pets, no smoking.
-Price 7500 kr / week
-Please email with questions.

I närheten
Affär
Apotek
Badplats
Bank
Busshållplats
Båtuthyrning
Cykeluthyrning
Fiske
Fotbollsplan
Golf
Hav
Kanotuthyrning
Lekplats
Längdskidåkning
Restaurang
Ridning
Simhall
Sjö
Skog
Skärgård
Strand
Systembolag
Vandringsleder

Priser och tillgänglighetsdatum
| | |
| --- | --- |
| L | Lågsäsong: 7000 kr/vecka, 1350 kr/dygn |
| | |
| --- | --- |
| H | Högsäsong: 8000 kr/vecka, 1500 kr/dygn |
Bytesdag: Lördag
Lediga veckor:
2021
2022

X

X

X

X

X

X

X

X

X

X

X

X

X

X

X

X

X

X

X

X

X

X

X

X

X

X

X

X

X

X

X

X

X

X

X

X

X

X

X

X

X

X

43

44

45

46

47

48

49

50

51

52
Kontaktinformation
Kelly Malmgren
Brannebolsvägen 16
61193 Nyköping
Mobil: 0722235536

Bokningsförfrågan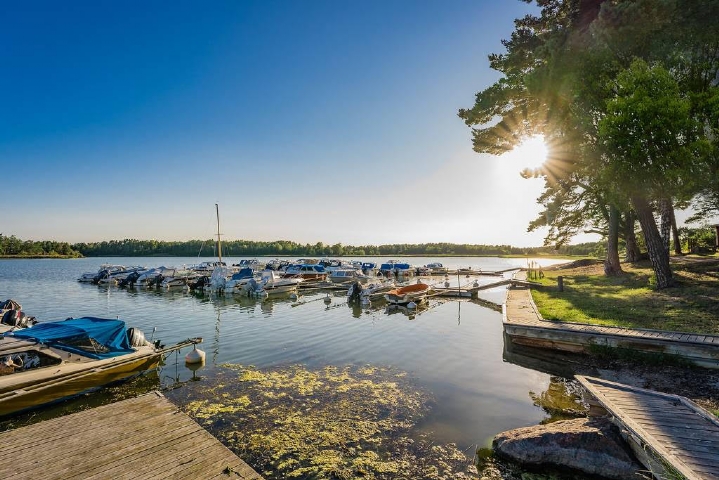 Bas:


El ingår


Husdjur ej tillåtna


Separata sovrum

Bad/toalett:

Vattentoalett


Dusch

Mat:

Matlagningsmöjligheter


Microvågsugn


Diskmaskin


Frys


Kylskåp

Tvättmöjligheter:

Tvättmaskin

Övrigt:

Öppen spis


Mobiltelefontäckning

Utomhus:

Veranda


Uteplats med utemöbler


Utegrill


Trädgård

Liknande objekt
» Mysigt torp nära Nyköping: 2 + 1 bäddar
» Övernattningsstuga: 2 + 2 bäddar
» Stuga i Sörmland uthyres: 2 + 2 bäddar
» Litet hus i skogen: 2 + 1 bäddar
Fler i samma område
» Stugor i Nyköping